---
I'm Giving my Regency Romance novel away for FREE!
I must be insane!
https://www.smashwords.com/books/view/146442
COME AND GET IT LADIES!!!
To Love a Beast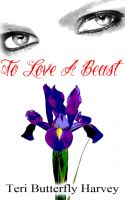 By Teri Harvey
Rating: Not yet rated.
Published: March 30, 2012
Words: 99645 (approximate)
Language: English
ISBN: 9781476341767
Short description
Unable to stand by as Madison Fitzwalter's future is ripped from her, Charles, The Duke of Radcliffe, who has inexplicably fallen for the lady he soiled and deserted, makes plans to forge a new future for Madison, a future where he is her husband…whether she likes it or not.
Extended description
To Love a Beast is a Regency romance novel about a young debutant named Madison Fitzwalter who is kidnapped by mistake. Judged to be a fitting substitute for his intended victim, Madison is blindfolded and seduced by man who awakens a passion inside of her the likes of which the sheltered innocent has never felt. At the end of her illicit night with a man only known to her as Teddy, Madison is returned to London manor from which she'd been plucked and left alone to face the scorn and rejection of the ton leaving her heartbroken and inexplicably pining for the mysterious lover who abandoned her.
Charles, The Duke of Radcliffe, never expects to see this girl again after he'd seduced and released her. Charles is painfully aware that he should never have touched the chit delivered to his bed by mistake, but the young beauty is just too tempting, and watching the next morning as she is ostracized by an unforgiving Ton only complicates matters. Unable to stand by as Madison's future i… (Read more)
---
Trackbacks & Pingbacks
Comments